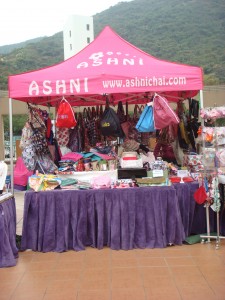 ASHNI frequently has a stall at popular Fairs and Markets around Hong Kong and Discovery Bay.
You will regularly see ASHNI at Handmade Hong Kong Fairs in Discovery Bay,  look for the distinctive pink marquee!
ASHNI is a popular vendor at Fairs promoted by Prestige Events  at the Conrad Hotel, also major Fairs at the Repulse Bay Hotel, Hong Kong Cricket Club, Park View Bazaar, Hong Kong Country Club and AWA Bazaar.
Please check my Blog for news and details of the next ASHNI fair..

Original ASHNI Product?
When buying at Fairs or Markets check for one of the ASHNI labels as shown below to ensure you are buying an Original ASHNI product: